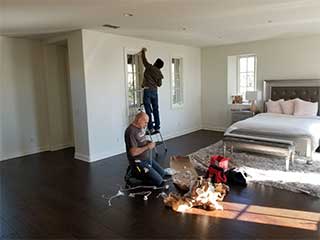 What are the best window treatments? That's a question that pretty much every home and business owner ends up asking when it comes time to add new covers to their windows. The simplest answer is – it depends. Different blinds and shades complement different decors and suit different needs. The ultimate decision needs to factor in your needs, your design taste, and various extra features and innovations that you may or may not choose to opt for.
The Best Insulating Shades
If thermal efficiency is at the forefront of your thoughts, then you'd be hard pressed to find a more suitable solution than cellular shades. The pocket, honeycomb-like structure of these coverings, allows them to create an air barrier that reduces heat transfer. This type of function is great for both the winter and summer seasons, and can help you lower your energy bill. Cellular shades make for an efficient, eco-friendly solution with a lot of variety. There are different cell sizes, and a number of layers and materials that can be used to create your custom made cellular shades.
Shades That Provide Privacy and UV Protection
Sheer shades are unique in that they can protect you from harmful UV radiation, without completely blocking out all sunlight. These coverings can also reduce glare, without having to sacrifice your option of using natural lighting to brighten up the room. They come in different degrees of openness that offer a range of different light filtering options. You can also get layered shades that offer an alternating option. These coverings consist of two contrasting vane colors that roll parallel to each other, allowing you to switch from near blackout conditions to major visibility back and forth effortlessly.
Your Nearby Source For Window Treatments
Contemplating which sort of blinds and shades to go with? Let us help. From faux wood blinds that look and feel like real timber, to beautiful sheer roller shades that use Somfy motors and controls to adjust automatically to outside sunlight levels. Our selection of available products has something for everyone. Schedule a free consultation today and let us provide all the information you need to make the right decision. After all of your windows have been measured, our installation team will return with your new custom made shades and set them up so that they're functioning flawlessly from day one.
Get The Quality Window Coverings You Deserve:

Free In-Home Consultation

Faux Wood and Real Wood Blinds

Solar and Battery Powered Shades

Professional Installation Services