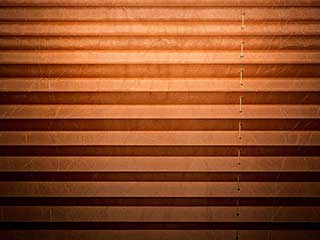 Not all window treatments are designed for the same purpose. Some blinds add beauty and ambiance, some shades protect your furniture from the damage of the UV rays and some give you privacy. The type that best suits a specific room and windows or glass doors can vary quite a bit. It all depends on what you want to achieve using the blinds and window shades. Find out what are the different types of blinds and shades that provide privacy as well as UV protection.
The Ultimate Privacy – Blackout Blinds and Shades
Blackout shades provide maximum light blockage. They are made of special opaque fabric that can block almost 100% of incoming light. Alternatively, if the material of choice is not completely impenetrable, an opaque lining can be added. They are fitted tightly inside the window frame to prevent any light seepage from the sides. In case of gaps, light-blocking channels can be attached. They are perfect for nurseries, media rooms and bedrooms and are available as Roman blinds, cellular, pleated, roller or wood shades. Colors, textures and styles are numerous.
Room Darkening Shades – The Middle Of The Way
If you want to darken the room but still be able to find the light switch at night, you should opt for a room-darkening window covering. These can block 95% to 99% of incoming sunlight. They are available in many styles, including the sophisticated banded (dual/zebra) layered shades. These combine the features of a blind and a shade. They alternate sheer and light-blocking fabric bands that can provide light-filtering or room darkening. Layered shades are definitely a great solution for those who want to easily switch from privacy to visibility.
Light Filtering Blinds and Shades
The purpose of light filtering blinds and shades is to protect the house from the damage of UV rays, but not necessarily to increase privacy. They are made of semi-opaque material that lets in some light even when closed, and decreases the glare. Some provide insulation and are an energy efficient solution. They are available in many styles including sheers, wood, Roman, and solar blinds.
Custom Blinds and Shades
What's good about getting your window treatments custom made? Well, you can choose exactly how much privacy and UV protection you want. Let's take roller shades as an example. You can choose light filtering roller shades to have some sunlight still manage through when the shades are closed. Or, you can opt for something more opaque. Blackout roller shades are very popular for bedrooms and meeting rooms, where elegance and privacy need to meet. There's a huge range of fabrics and other materials that provide a range of options between light filtering to complete blackout conditions. The best way to decide which blind and shade materials work best for you is to consult with the nearest window covering experts. Who's that?
San Diego Blinds & Shades – Servicing All Nearby Areas
When you are looking for blinds or shades that will add privacy to a room, or any other window treatment solution, call Blinds & Shades San Diego. You can schedule a free consultation and have someone come to your house to provide face to face advice and guidance. Let us help you ensure you find the best budget blinds for your needs, without compromising on quality, beauty, and utility.