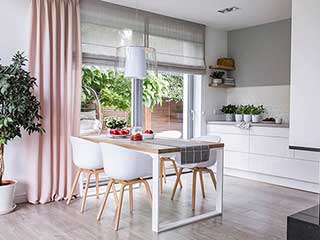 A timeless classic, roman shades are one of the most stylish options for your windows. They have been around for centuries and are cherished by many for the great privacy and light blocking capabilities they provide. As with many window coverings, there are a lot of options to choose from and can come in a variety of fabrics and styles.
Versatility Almost Anywhere
While it is true that roman shades have been around for a very long time, they are still a great option for window treatment. By having a large selection of fabrics and styles to choose from, they can go with just about anything in any place. Their elegance, yet simplicity makes them function well no matter where you decide to put them making them a top option for many home owners!
Privacy, Lighting And Energy Efficiency
Roman shades also offer excellent privacy and lighting to your indoor area. They use an entire piece of fabric so when they are fully down, there are no gaps for light or prying eyes to get in. If you only want them halfway up, you can easily do that too and get the exact lighting you're looking for. They are great at helping to maintain the indoor temperature as well, saving you a little cash on your electric bill!
Affordable And Long-Lasting
Some window treatments may look great, but are costly and won't last a very long time. Choosing these ensures you will not only get beautiful coverings for your windows, but also something that will last for many years. They are also one of the least expensive options to choose from so you don't have to hurt your wallet! There really isn't a much better choice as far as longevity and price are concerned.
Don't Wait Any Longer
When selecting a window treatment, let our experts help you find the perfect choice to match your desires. Blinds & Shades San Diego is ready to offer you the best products and customer service the area has to offer! So stop waiting around and contact our team of professionals today for any of your window treatment needs.