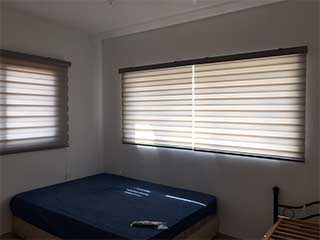 Choosing the right blind or shade is not only a matter of style and color. It is important to understand the physical environment of the room where the new blinds get installed. The interior conditions, such as humidity, have an impact on the longevity and endurance of the window covering material. The blinds and shades you choose need to be able to improve the ambiance both in terms of décor and in terms of climate.
Moisture, Humidity and Window Covering
Blinds and shades often help or get damaged in ways you may not be aware of it. It is not uncommon to wake up in the morning on a winter day and find that the windows in the bedroom are covered with a thin layer of moisture. This will happen naturally when the temperature outdoors is lower than indoors. Our concern here is more with the internal humid conditions. These are a result of the specific use of some rooms in the house. Kitchens, bathrooms, garages, utility or laundry rooms. Wiping the droplets accumulated on the windows in these rooms will not help the blinds and shades. They will be continuously affected by the moisture presence. Similarly, if your house is located in a high moisture region, such as along the coast, the humidity from the nearby ocean will affect the condition of the window coverings.
Moisture Resistant Blinds And Shades
Luckily, there are many options available for the humid areas in the house, giving you a range of styles and colors to match and enhance the existing décor. Faux wood, aluminum, and vinyl are ideal – they don't warp, crack, or split in humid environments. Faux wood blinds, for example, are affordable, attractive and easily maintained. They come in an almost unlimited range of colors and textures, and can be custom made to fit any shape and size window. Many vinyl blinds are designed specifically to withstand humid conditions, and they are durable and versatile. The same goes for aluminum vertical blinds.
Temperature Control With Shades
One of the most popular options for energy efficient blinds and coverings are cellular shades. Why? Because their unique build allows them to ensure the room retains more heat or that heat doesn't get in from the outside. Cellular shades work by creating a barrier that reduces heat transfer, making them perfect for all seasons, especially winter and summer.
Kitchen Window Treatments
You probably tend to use our kitchen more than any other room in the house. Well, with the high traffic, fluctuating temperatures, spillage, splatter and general steamy atmosphere, water resistant blinds or shades are a must. With today's new styles, even the vinyl sheer weave solar shades are a perfect solution. Furthermore, choosing a cordless option will ensure your safety.
Get Custom Moisture Resistant Window Treatments
Call Blinds & Shades San Diego to learn about the large selection of water resistant blinds and shades, suitable for any room in your house. By scheduling a free consultation you'll have an expert explain all the different options available to you. This will help you ensure you make the best decision. Blinds & Shades San Diego is the nearest blinds and shades source, and also the best one around. Contact us today to learn more.