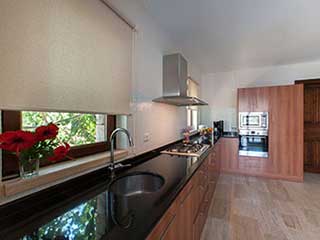 It's never wrong to go with a tried and true shading solution when you're searching for a way to diffuse sunlight or utilize natural light to illuminate your property. With roller shades, you can control how much sunlight gets with a very simple and effective way. The basic structure allows for a lot of customization and makes these coverings perfect for virtually all types of rooms.
Custom Made To Give You Shade
Because roller shades are built in a simple and elegant fashion, they can be made to suit any type of décor and match any need you may have. The entire structure consists of a fabric sheet that attaches to a (usually metal) bar which rolls in order to raise or lower the shades. This simple yet ingenious design is incredibly effective at blocking sunlight, and the type of material used to make the fabric of the roller shades will determine what type of purpose they'll have. Want light filtering roller shades to reduce sun glare in your office? This would be a cheap and excellent choice. Want to add a classy, unassuming décor enhancement to your bedroom that will block sunlight and give you privacy? Blackout roller shades would be a fantastic addition.
Near Endless Options
The simplicity of roller shades is also their main attraction, as they practically are a blank piece of canvas you can decorate and pattern in any way you want. There are as many design styles and colors to choose from as there are people who come up with designs and patterns. The fabric is just as varied. Sheer roller shades come in all sorts of opacity levels, so you can have them made to be as room darkening or light filtering as you want.
Remote Control Roller Shades
While using these window coverings manually isn't a hassle by any stretch, you still have to physically go to them in order to raise or lower them. For those looking for childproof window treatments, cordless roller shades will do nicely. But if you really want to give a room a high-tech feel, then motorized roller shades will take care of that very easily. You can use wireless devices such as a remote handset or a smartphone to control them (which is best afforded by Somfy and Lutron products). What's even better, you also have the option to choose self-adjusting roller shades, for complete automation, or to incorporate these window coverings into your smart home system. Then, all you'll need to do is issue the right voice command and Alexa, Google Home, or whatever virtual assistance you have will raise or lower your roller shades accordingly.
Beautiful Shades, Custom Made
Ensuring your new window treatments do in fact cover the entire length and height of the opening is important. You don't want sunlight peeking through the sides while the covers are fully drawn. That's why custom made roller shades are so effective at controlling sunlight. Schedule a free consultation with an expert from Blinds & Shades San Diego and design a set of coverings that match all your needs perfectly.