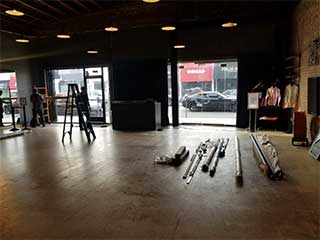 Although blinds and shades for commercial purposes can be similar to their residential counterparts, there's a lot more that goes into it. While you still want your house to make a great impression on visitors, when it comes to commercial establishments, this first impression is much more vital. The interior décor of your business says a lot about it, whether consciously or subconsciously. People make assumptions based on all sorts of things, so you want your blinds and shades to not only pop, but create an inviting indoor ambiance that will make customer experience and employee productivity optimal.
Possible Motorization Options
Basically, all types of window treatments can be automated. From motorized curtains to remote controlled blackout blinds. The rub lies with how you combine motorization to bring an appealing look and feel to the interior décor of your business. Hardwired electric blinds can move in unison, even when several sets are combined. Battery powered shades can work during power outages, and solar powered blinds are great for those looking to utilize sunlight energy in order to save money and make their business more 'green'. Motorized window coverings have various easy and efficient control methods, especially ones that utilize products from Somfy or Lutron. You can opt for a handset remote control, using your smartphone, or even self-adjusting shades that work automatically or voice command operation.
Design Is Everything
Naturally, apart from being easy to use, you want your commercial blinds and shades to look stunning. They need to enhance the interior décor of your business and complement the surrounding design. Pleated fabric Roman shades, for example, have a very unique look that makes them eye catching when drawn. Sheer shades with vanes can be made in a variety of colors that will bring a bright tint to the sunlight getting through them. You may also like the pleated and pocket-shaped look of cellular cells, which also provide enhanced thermal efficiency due to their insulating capabilities.
The Right Blinds For Your Business
Restaurants, hotels, and even doctor's clinics. These are all commercial establishments that need to make a good impression on customers. But office spaces and other types of businesses that don't see many visitors can also benefit from custom made shades and window blinds. Controlling sunlight and minimizing glare will help you keep your employees more productive and motivated, as we all know how important it is to maintain a good work environment. Find out more about all the different types of commercial blinds and shades available to you by getting in touch with us to set up a free consultation. At Blinds & Shades San Diego, it's our prime goal to help you design the window treatments that will match your taste, budget, and needs perfectly.