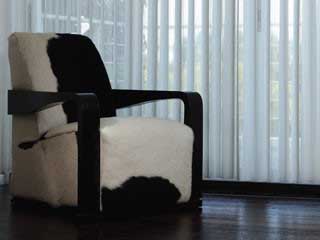 For a cheap, high-quality source for vertical blinds near you, look no further than Blinds & Shades San Diego. We're the premier supplier of horizontal and vertical window treatments (and door blinds) in the local area. And we give you custom-built vertical blinds for windows and doors of any shape or size. Thanks to our gigantic range of materials and color designs, you can choose from any number of different options. You can even combine vertical blinds with curtains for a versatile, attractive window treatment. We do all of this at an attractively low price, making it simple for San Diego home or business owners to make improvements to their property. To get started with your new custom blinds, all you have to do is call our team today. We'll set up a time for an in-person consultation, where you can see and touch the high-quality products we offer and get a free estimate too.
Wide Range of Vertical Blinds Designs
The range of vertical blinds that we provide is extremely versatile. The sky is the limit when you choose from our range of shading products since you can combine any number of different elements. Start with materials such as aluminum or vinyl, or even wood, then think about the right color to match your room. Maybe you'd like a deep red for your bedroom, or a paler shade to suit your living room? We'll create custom vertical blinds to match your precise instructions. Once they're built, our vertical blind installation specialists will handle everything else. All you have to do is sit back and relax, and when the work is done you can enjoy your new blinds in peace.
Made-To-Measure Vertical Blinds
With many years of experience, our San Diego-based blinds experts can find the shading solution to any 'obstacle'. That means when you need vertical blinds for office windows, for example, we can craft something that suits the room and doesn't exceed your budget. We'll help you pick out a highly professional-looking design that enhances your workplace, and with our low prices, you'll find it easy to make room in the budget. We even offer specialized options such as motorized vertical blinds. These let you seamlessly control your window coverings from anywhere in your home (or even away from it), These amazing capabilities don't have to be expensive, either. Speak with our team here at Blinds & Shades San Diego to find out more about our range of amazing vertical blinds.
Motorized Vertical Blinds
Cordless covers make for a good option. But why not go an extra step and choosing a shading solution with high-tech remote controls? Motorized vertical blinds give you control over one or more sets of window treatments with a simple button push. You can also use Wi-Fi to control your electric vertical blinds with your smartphone or a tablet device. Many San Diego properties boast motorized blinds on their windows as well as on their glass doors. Blinds & Shades San Diego can make a product customized for your specific needs. By getting in touch with us for a free consultation, you'll see all the different blinds motorization methods we offer and have the option to pick and choose which ones suit your needs best.
Best Local Source For Custom Window & Door Blinds
Blinds & Shades San Diego offers shading solutions for businesses and residential properties. Having to put up with bright, uncomfortable sunlight? Our catalog of vertical blinds for sliding glass doors could present the perfect answer. Maybe you need a little extra privacy at home, to protect your family from prying eyes? Our blackout vertical blinds make for a great solution that also lets you set the atmosphere for watching movies. Find out more by contacting San Diego's no.1 source for vertical blinds and get a free estimate.