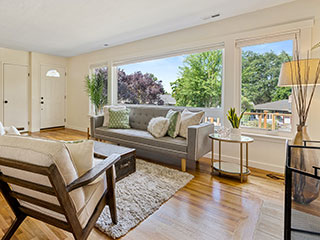 Finding yourself tired of old window coverings that you have to adjust manually? Consider the many benefits of motorized blinds. Enjoy remote control features via Wi-Fi or Bluetooth for electric blinds of all sorts. Whether for office spaces, your home, or some other property, motorized blinds can provide excellent covering solutions for a variety of needs. Utilizing the latest technological advancement, our made-to-measure motorized blinds offer customers a smooth and silent movement. As one of San Diego's beset motorized blinds installers, we provide high-quality at the most affordable prices.
What Are The Best Motorized Blinds?
To answer this question, we'd need more information. Different types of blinds work better for different types of needs. The same applies to motorized blinds. For example, if you're looking to add coverings to San Diego office spaces with large window walls, motorized vertical blinds may suit your needs best. The vertical setup of the vanes leads to no bending the way horizontal structures get. For bedrooms, motorized blackout blinds with overlapping vanes will suit better. This is because the vanes close over each other and prevent all sunlight from entering. This is great for ensuring solid sleeping conditions, as well as for better privacy.
Somfy Blinds Motorization & Controls
Widely regarded as the top brand, Somfy offers all sorts of motorized blinds mechanisms and remote control options. Somfy blinds motorization products allow for automation of all sorts of window coverings, from Roman shades to blackout curtains and other forms of coverings. But these electric blinds motorization features also work for outdoors! With Somfy motorized patio covers, you can add shade to decks, gazebos, pergolas, and all sorts of other outdoor areas. This also includes motorized awnings and waterproof patio shades. Our professionals can walk you through the different options and discuss which suits your needs best.
Solar-powered Motorized Blinds For San Diego
One of the most popular choices for automatic window coverings and patio shades, solar-powered blinds offer you an eco-friendly, money-saving solution. Using sunlight as the main source of power for motorized blinds has some beautiful irony to it. You use the blinds to protect yourself and your furniture and other belongings from sunlight. And how do you power them? But harnessing the solar energy derived from the very object they're safeguarding you against. Solar-powered motorized blinds can offer a great way to save money on energy. You don't waste electricity as long as the weather stays sunny outside. In the San Diego area and California as a whole, that means most of the year. So there's a lot of money to be saved using motorized blinds with solar panels.
Get Motorized Covering Solutions Custom Made
A very important aspect of window treatments, motorized or in other manual forms, is having complete coverage. You need your motorized blinds made-to-measure so that they can cover the entire window frame from side to side, top to bottom. Letting sunlight stream inside through slits and gaps will reduce the optimal conditions. It can result in annoying glare off computer screens and shiny surfaces too. Not to mention, continuous exposure to undiffused UV rays will cause the color to fade from furniture, wallpaper, books, and other belongings. Find out all about motorized blinds and the many benefits they can offer your residence, business, or other properties. Call us and consult with our San Diego motorized blinds experts for free!