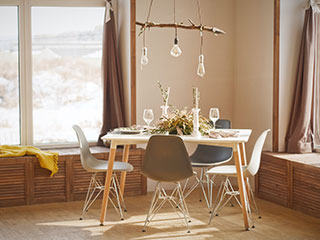 Completely covering the windows in bedrooms, kitchens, office spaces, or anywhere else has various benefits. What's more important, though, is what you use to cover the windows. Blackout curtains provide a complete blocking of light. Whether it's sunlight or the glow of streetlamps, this provides a range of benefits. For San Diego bedroom windows, blackout curtains give the ability to create ideal sleeping conditions with a simple tug of the fabric. With motorized window blinds, this tug occurs via remote control. The right set of custom blackout window curtains can add décor to the room as well as very functional sunlight control capabilities.
Motorized Window Curtains – Wireless Covers
One of the best options with blackout curtains is motorized window treatments. You can get motorized blackout window curtains installed in any room, and the benefits always add something to the utility. For San Diego bedroom windows, blackout curtains with remote controls let you control the levels of sunlight that enter. This applies to street lamps as well. No light from the outside will enter without you allowing it. This makes automatic motorized window curtains with blackout fabric fantastic for many purposes. Utilize Wi-Fi smart window curtains and you can even use voice commands or your smartphone to control these draperies.
Blackout Curtains For San Diego Bedroom Windows
As you can guess, blackout bedroom curtains offer an excellent choice for obvious reasons. When you try to fall asleep, or after you succeeded in doing so, you need to ensure no light disturbs you. Why? Because our brain is very sensitive to the presence of light, especially sunlight. Blackout bedroom window curtains prevent this by blocking light directly. This allows you to fall asleep much quicker, and to stay asleep until you wake up naturally or the alarm goes off. Optimal sleep improves your personal health and mood. Blackout window curtains may look simple enough, but they provide complex benefits in the short and long terms.
Living Room Window Curtains
Some prefer sheer draperies to put on their living room windows, but blackout curtains have something to offer. First, privacy. Blackout living room window curtains allow no one on the outside to peer inside. Burglars won't see if nobody's home, nor would people be able to spy on you. But blackout window curtains in your San Diego living room also help to set the mood. Want to watch a movie or a TV show? You can create total darkness, like in a movie theater. This lets you dive into the experience like a moviegoer, only from the comfort of your own home. Naturally, you can choose motorized blackout curtains for living room windows for an optimal experience. Push the button, turn on the TV, and saddle in for movie night.
New Blackout Window Curtains Made-to-Measure
With a local source for window coverings, you can get any type of sheer or blackout curtains you want custom made. We work with quality fabrics to provide cheap window curtains for room darkening purposes and in varying levels of opacity. Utilizing blackout curtains in your San Diego property, residential or commercial, carries many benefits. With these affordable draperies, you can improve décor and enjoy an ideal indoor climate and atmosphere. So give us a call and schedule a free estimate on blackout curtains and other draperies, motorized or manual.