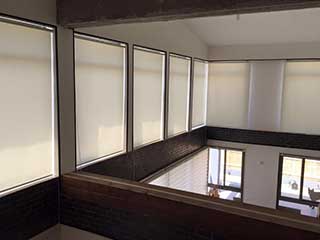 The days of manually pulling or lifting the shades each time you want to let some sunlight in are gone. The same goes for when you want to darken the room or increase your privacy. Nowadays, there's a simple window shading solution that will allow you to achieve complete blackout out or visibility with the push of a button. We're of course talking about motorized shades and blinds.
The Benefits Of Motorized Shades
Automating your window shades involves more than just strapping a motor to a sheet of fabric. For once, the custom made shades need to match the size of the window, to ensure no sunlight gets in from the sides. But the motorization itself can be varied and customized in various ways. It's important that the installation process is carried out professionally, to avoid long term problems and to ensure the motorized shades work great from day one. So what types of benefits do automatic window coverings offer?
Easy to Use – what could be simpler than pushing a button? How about issuing voice commands? That's right. With motorized shades that utilize Somfy and Lutron products, you can just order your blinds to open or close with the power of your voice.
Multiple operation methods – you can choose from battery powered blinds to hardwired or even solar powered options. Each option has distinct benefits and disadvantages in terms of functionality and longevity. Better to consult a professional to decide which one is best for your needs.
Enhanced privacy – motorized shades allow you to control exactly how much visibility people on the other side of the window have. Want a little peace and quiet and a respite from prying eyes? Just close the shades using whichever control method you choose.
Added Security – by setting your motorized shades to operate on a schedule, you can make it seem as though someone's always home, even when you're away on a vacation. This will help deter burglars and alike.
Energy efficient – yes, this may seem incongruous. How can motorized shades be energy efficient, you might ask. Don't they use energy to work? Yes, they do, but you can have them utilize special brightness and temperature sensors to optimize their automatic performance. This will help you control your indoor ambiance and temperature more easily, which, in the long term, will result in lowered energy costs. You spend a little energy today to save a lot of it tomorrow.
Significant décor improvement – putting all the utility and functionality benefits aside, there's just something cool about blinds or shades to move smoothly up and down in an automatic fashion. With hardwired blinds you can ensure that several different sets will operate in complete unison, lending the whole thing a very neat and elegant style. Add to this the fact that pretty much every type of window treatment can be motorized, from fabric Roman shades to drapes and curtains, and you've got beautiful old age elegance with modern day innovation.
As you can see, there's no shortage of benefits to getting motorized shades installed in your home or office. It's no surprise that these automatic window coverings are fast becoming the most popular option.
Schedule a Face to Face
Looking for more information? There's a blinds and shades expert near you ready to answer all your questions. Contact Blinds & Shades San Diego today and set up a free in-person consultation.