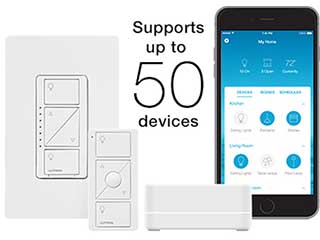 You can utilize motorized window coverings for both functional and decorative purposes. With energy-efficient solutions like Lutron motorized shades, you have a plethora of options to suit different needs. The clean look and advanced technology give you the best of both worlds. Combining décor with utility has made Lutron shade solutions incredibly popular, and you've got all sorts of wireless smart control features you can choose along with different designs to make these automatic window coverings perfect for your residence or business in San Diego or nearby areas.
Are Motorized Lutron Shade Solutions Worth It?
The simple manual options have long since become outdated and lacking in multiple aspects. While motorized shades can cost a little more than simple pull-down or string-operated ones, the benefits far outweigh that one con. Motorized Lutron shades give you excellent energy efficiency and climate control options. With smart Lutron controls, you can have motorized shades adjust position and opacity to suit different settings and ambiances you want to create. Using wireless smart motorized shades gives you a fast and simple way to control privacy too, and maintain the perfect natural light settings throughout the day and night.
Blackout Lutron Shades For Bedrooms
Controlling the amount of sunlight that travels inside is crucial for good sleep. It's, therefore, no wonder that blackout Lutron motorized shades are so popular for use on bedroom windows. You can block sunlight during all hours, even in broad daylight. And with motorized smart Lutron shade solutions, you can even use brightness sensors to utilize natural light as your waking catalyst, instead of a noisy alarm.
Sheer Motorized Shades
The use of sunlight diffusion helps soften harsh glare and block UV rays. This makes sheer Lutron shades excellent choices for kitchens, dining rooms, and anywhere you want to enjoy a beautiful sunny ambiance without glare annoying the corners of your eyes. Sheer Lutron motorized shades can soften sunlight and create a warm, welcoming feeling. And remember those special features? With dimmers, Lutron shades can change opacity levels to increase or decrease diffusion, making them great for all purposes.
Your San Diego Lutron Shades Source
We give customers a wealth of choices to pick from and customize however they like. Our free consultations help you find the best combination of design and utility for your new custom made Lutron shades. Interested in learning more? Arrange an appointment for a free estimate today! Consult with the best San Diego Lutron shades experts near your area for all the details. We offer our in-person consultations to all local areas. So call or use our online system to schedule your free appointment.