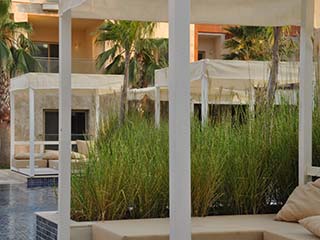 A patio isn't much better than a bare patch of ground if you can't use it when the weather is disagreeable or leave furniture on it. Patio covers range from permanent roofing to retractable canvas shades. With the advent of motorized patio shades, you can even get the best of both worlds in an easily movable rigid roof. Different styles of patio covers are ideal for outdoor spaces of different sizes, locations, and purposes. It also depends on how much work you're willing to put into keeping your patio the way you want it. Not everyone has the time or back for moving heavy sail shades by hand, but some enterprising folks enjoy the exercise! A good cover for your San Diego patio shades the area and provides a comfortable outdoor lounge space. With motorized patio shades and awnings, you can enjoy the outdoors anytime!
Rigid Patio Covers Or Shades?
First question: roof or tent style? Rigid wood or metal covers are great for all-weather outside enjoyment and require less frequent maintenance. Semi-opaque shades let in partial sunlight and let you enjoy the outdoors while still keeping the worst of the rays off of skin and patio furniture. Of course, the heavier the cover, the more support it needs. Rigid materials are good for motorized awnings, small porch covers, and heavy freestanding patio shades. Fabric gives you sail style or pop-up canopy shades, as well as lighter motorized patio shades that pull less juice. Consulting with our local experts on patio covers in San Diego will help you decide which options suit you best. Remember, motorized patio shades and awnings can fit gazebos and pavilions as well as decks and various courtyards. So you have a variety of options for different types of patio covers.
Sail Shades And Patio Awnings
If you have a not-too-big outdoor space that hugs the side of the building, you'd be best served with attached shades. Flexible sail shades don't have any frame holding them in place. Instead, you just pull them taut between three or more attachment points. These are inexpensive and save a lot of space, but can be a bit of a hassle to adjust. They also fit some patio geometries much better than others, so the viability of sail shades depends on what needs covering. Awnings are the classic shelf-like covers that extend from a wall over the patio. Fabric awnings usually retract with rollers, while more rigid ones have folding frames and panels. If you're looking at a bigger patio or sitting area, you should probably get motorized awnings, since the larger ones get difficult to adjust by hand.
Freestanding Patio Shades as Outdoor Lounge Covers
Detached patios, courtyards, and seating areas don't have a handy building to hang shades off of. If you need heavy-duty covering but want it more retractable than a full-on gazebo or dugout, freestanding motorized patio covers might interest you. These systems have a wall-like support frame, and either rotate on an axis or extend folding arm-frames on command to become a sort of open-air outbuilding. The other option would be to set up a canopy tent. Pop-up canopies are more or less a type of large tent, usually with one or two walls missing to duplicate a covered patio effect. If you want motorized patio shades in a canopy tent-like setting, you can think about pergola-style structures that mix these two approaches.
Affordable Motorized Covers For San Diego Patios
We provide free estimates before any order, so feel free to give us a call and make a date. Our custom patio shades are designed to customer specification and fitted to your nearby San Diego patio or other outdoor property. Along with style and materials, you can choose a range of advanced features to improve a motorized patio cover. Solar panels, smart controls, and much more are all on the table. Want a free in-person consultation? Hit us up and book an appointment today!