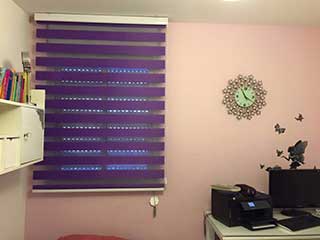 For people who are looking for a more modern look when it comes to window coverings, layered shades are a great option. They offer great protection from the light, are very stylish and have a more minimalist approach then some other options.
Block Harmful UV Rays
As most homeowners know, UV rays can be damaging to much of the furniture that resides in our homes. Being composed of sheer fabric strips in between woven fabric strips, these shades offer a great solution to such a problem. They allow some light to still enter the room while filtering out all of the harmful and damaging rays of the sun, preventing color fading and keeping your stuff looking great.
Keep Your View
One downside to some window treatment options is the fact that they can sacrifice a great view in favor of light control. Well, the good thing is layered shades offer versatile light control and still give you the ability to enjoy the view when desired! The level at which they sit can be easily adjusted and, when all the way up, they sit discreetly above the window. Nothing to obstruct your vision, just a clear sight to the outside world.
Add Beauty To Your Home
First impressions are important and believe it or not, what's on your windows is one if the first things people will notice. Layered shades can add the beauty and style to your home that you so desire. They often become the backdrop for the rooms they're in so it should be important to have something that looks wonderful. There are so many varieties of colors and designs to choose from too, so having your home matching and looking fabulous is closer than you think!
Get Your Free Consultation Today
Here at Blinds & Shades San Diego our team feels it is important that you get exactly what you want with the least amount of stress possible. That's why our company is always proud to offer free consultations and color samples to all of our customers! Don't hesitate to contact us online or by phone for any of your window treatment needs.
Call us if you're looking for other window treatments like:

Aluminum Blinds

Cordless Blinds

Solar Shades

Pleated Roman Shades