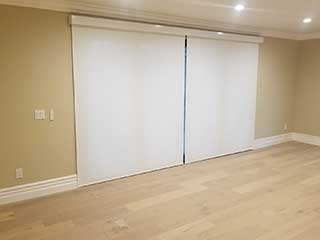 Here you can read about our custom blackout blinds, available for manufacturing and installation anywhere near San Diego. You won't have to worry about sunlight, peeping neighbors, or outdoor workplace distractions with a set of these babies! Call us any weekday, and we'll have our team on the way to your local address for a free consultation and estimate for your order.
What Are Blackout Blinds?
To qualify for the "blackout" descriptor, a set of blinds must meet two criteria. First, the panels must be completely light-proof, with no translucence at all. Second, the panels must be able to cover the entire windowpane when rolled shut, so that no sunlight can get through at any point. Blackout blinds don't need to be black at all. Any color works, so long as the material is lightproof and the window is all covered. For obvious reasons, blackout blinds for bedroom windows are a popular choice. There are plenty of other places where you might want to install a set of these window treatments too, in both residential and commercial settings.
Blackout Blinds For San Diego Home Windows And Doors
Living rooms, lofts, galleries, and even kitchens or bathrooms can all use the protection that these blinds provide. Blackout blinds can do the same work as solid window shutters, but being lighter and rotatable makes them more comfortable for a home environment. They in more air and gives you options for the amount of sunlight to allow, as well as creating a homier atmosphere. Windows are not the only places to mount these features. Blackout blinds for French doors or porch entrances can be just as helpful! Blinds & Shades San Diego can design your set with either vertical or horizontal panels, to fit any sort of window or door.
Workplace Blinds – Blackout & Glare Reduction
Blackout blinds for San Diego office windows ensure a focused work environment with no distractions and no painful glare during sunny days. Like at home, being able to swivel your blinds to let in more or less air and light lets you adjust to present conditions as needed. Regular coverings can filter sunlight to an extent, thus reducing glare. Blackout blinds will eliminate it if you choose to close them all the way. If your workplace has a ceiling opening or skylight, putting some adjustable covers on it is essential for the brightest and most gloomy days. Our custom design service includes blackout blinds for skylights and other horizontal openings as well as more conventional windows.
Electric Blackout Blinds
Choose your color, your style, even your materials! Our custom blackout blinds come in every hue and texture, and our team will help you design a match for any room's decoration scheme. You can also invest in our motorized blackout blinds. These remote-controlled window coverings save you time and make your day a lot more convenient. With the addition of some timers or solar sensors, you can even have your blinds open and shut themselves on their own when appropriate! Talk to our consultants about the options, and they'll help you design the best products for your own needs, preferences, and budget.
San Diego Blackout Blinds Source Near You
Our prime concern is your satisfaction. That's why we offer free consultations at any San Diego home or office. Let us show you our wide selection of blackout blinds you can choose from, and customize the designs, materials, and features as you see fit. Our motorized blackout blinds have become quite a popular choice for privacy and perfect TV-watching conditions. Arrange a free estimate and learn more about our room darkening window treatments, custom made to your budget and needs.