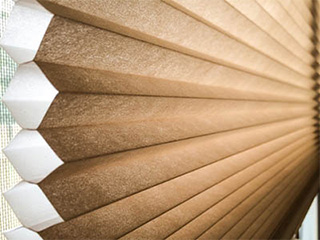 You may wonder, what are cellular shades? Well, this article is going to explain it. To give you a quick overview beforehand – cellular shades make for an excellent shading solution for people who want to get the most out of their window coverings. Whether you want blackout shades or light filtering ones, cellular shades offer lots of pros and little to no cons. This has made them a very popular option for both residential and commercial properties. Those looking for a provider of vertical cellular shades near San Diego can call off the search. The team at Blinds & Shades San Diego specializes in custom making these insulated window treatments. You've got a wide range of fabrics and designs options to choose from, matching any person's needs.
What Do Cellular Shades Do?
Basically, these shades can block out sunlight or filter some of it the way other window coverings can. However, they do much more than that. Cellular shades also create a barrier for heat air to pass through and from the room. That means that do a lot to prevent heat from escaping or from entering. This insulation enhancement makes these energy efficient shades a fantastic choice for bedrooms and really any area where you want optimal interior climate control.
How Cellular Shades Work
The structure of cellular shades is where their power comes from. These coverings are built with a layer of pockets (single, double or triple, in varying sizes). The pockets, or 'cells', of cellular shades trap hot air and prevent it from traveling outside or inside. This buffer is what makes it easier for your HVAC system to control and influence the indoor temperature. These coverings are great for more than just windows. Vertical cellular shades for glass doors do the same. In addition to their thermal insulation capabilities, cellular shades can also reduce noise. And, of course, they can filter or block sunlight, just like other types of window shades.
Blackout Cellular Shades and Light Filtering
If you want to maximize privacy in your bedroom and also help keep the ambiance cozy all day long, blackout cellular shades will do the trick. They're great at blocking sunlight, and their energy efficiency will pay for itself before you know it. For other parts of your house or for office spaces and the like, light filtering cellular shades can be a great idea. They'll let you utilize natural lighting, without having to compensate for extra heat. The pros of these insulating window coverings are numerous and definitely worth getting if you're even a little bit interested. Blinds & Shades San Diego is more than just the closest cellular shades source. With us, you get guidance and advice, for free, to ensure you find the best covers for your windows.
Are Cellular Shades Worth It?
For most people – definitely! Cellular shades have a lot to offer in all sorts of aspects. They can really help you get the most out of available sunlight and help you keep your indoor environment pleasant and beautiful. There's a huge selection of sheer and opaque fabrics to choose from. You'll have a very easy time finding something that complements your interior décor. If you are looking insulated cellular shades close to you, then Blinds & Shades San Diego is definitely the company to call.
Learn More About The Pros of Cellular Shades
A good thing to do if you're still on the fence or want to know more is to contact a nearby source of custom cellular shades. Who? Blinds & Shades San Diego, of course. Schedule a free consultation with us and have the nearest blinds expert introduce you to the wonderful benefits and customization options of cellular shades.
A few other custom made coverings we offer:

Bamboo Shades

Motorized Curtains

Exterior Shades

Luxury Window Blinds